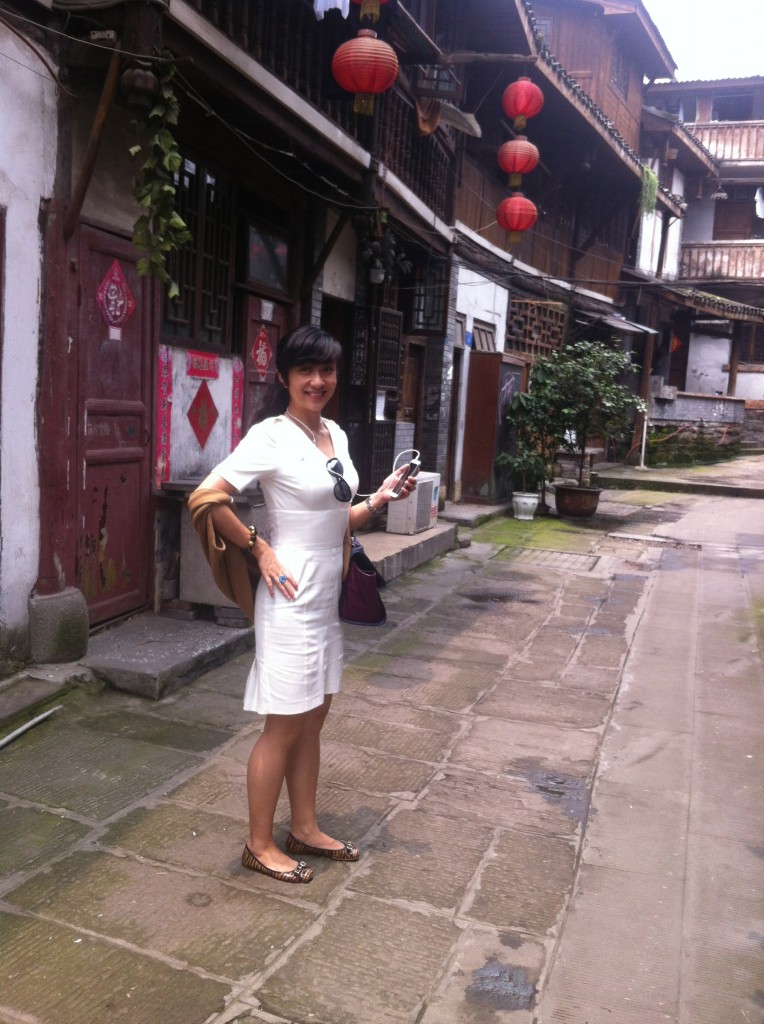 This is Angelina Gao, along with her friend Steve Jahng she leads the Summertime Theatre Group in Chongqing. Angelina's journey in theatre has not been easy what with societal pressure and family expectations but she has persevered and has become very successful. In 2010 Angelina was chosen to by Cosmopolitan to be one of their Woman of the Year. So I was very honoured to be given a tour about Chongqing by Angelina and her friends last week.
We began our tour in downtown Chongqing at the People's Liberation Monument in Jiefangbei Square. Once the tallest building in Chongqing the monument is now dwarfed by surrounding skyscrapers.  Jiefangbei is uphill and we headed downhill past various new and old buildings with Angelina providing detailed commentary along the way. Being built on the  mountains the locals describe Chongqing as a 3D city. You can take a lift to different areas and travel vertically to  your  destinations rather than horizontally as you do on road or rail. We opted to walk though and take in the sights of brand new buildings alongside older shop fronts where locals prepared chilli peppers or crafted beautiful and complicated cross stitching patterns.  Often amongst the sea of luxury vehicles you would see a  member of now in decline Bang Bang Army carrying seriously heavy loads but without the slightest show of exertion.
Lunch was at the bottom of the hill overlooking the Yangtze River. Alex, one of Angelina's students who had been carrying my guitar displaying many shows of exertion, began to ask about British food.  Chinese food is consistently delicious and they take it very seriously. Alex  asked if fish & chips was really our favourite food and for me to confirm these rumours he had heard of certain dishes such as dripping and battered mars bars. As I nodded my head in sad confirmation he explained that he and his friends call this food from the dark side.
After lunch we headed to Nanshan Shuyuan, the South Mountain Academy.  On my arrival the bell was sounded to mark the welcome of an honoured guest. Angelina had arranged for many local musicians and artists to meet us there along with her mentor Mr Xiao and the Dean of the University  Hongyi Liu.  At the highest point of the academy on the mountain is a collection of beautiful traditional style buildings and pagodas. A small stream runs through it all and carefully maintained gardens.  It was designed by the Dean Honyi Liu for the teaching and study of traditional arts, a very tranquil place. My pictures below only give a snapshot but I will post more soon as I get them from Tao Sun, the photographer who accompanied us all day.
Honoured Guest Bell –
Amongst the other guests was a local jazz guitarist Wei Zhao. He is one of the few jazz musicians here in Chongqing and he played really well. Its been a while since I've played traditional jazz standards but it was really nice to comp through tunes (thanks to iRealbook) and let Wei Zhao cook it up on solos.  We're gonna get together again soon so I've been practising my chops. I have  been extolling the virtues of young Birmingham jazz musicians and conversations have been started about how we can strengthen our links and possibly enable some jazzers to come work in Chongqing. Early stages but you never know……
In the pics below where I am jamming with Wei Zhao the guitar I am playing was made by Xiafei You. He was also present and had other guitars to show. They were lush, my God, the tone was like honey and the action, feel , wood, everything was perfect. I've been invited to his studio down by the docks and hope there is time for this to happen. If anybody reading this has a few thousand pounds spare and wants to make a kind gesture for international relations drop me a mail.
Jialin Yi is a maker and player of the chiba or shakuhachi as it is known in Japan. You can hear some of his playing on his website and the msytical setting of Nanshan Shuyuan was the perfect place to hear him play. As well as creating a deep breathy flute sound the chiba seemed able to generate overtones and a drone in much the way a didgeridoo does.  We had a short play together and it felt great. Jialin Yi described it as walking through a foggy forest in the evening. The work I am doing presently with the Peacock Angell band really fits with the characteristics of the chiba and I have a hope that  Jialin Yi can someday join the band on stage someday either in UK or China.
The final event of the soiree was a performance by qin player Tianjun Liu who is a teacher at the academy.  It was there I learnt how the qin music is communicated down the ages by stories and was shown copies of ancient texts.
We headed to Ciqikou, the old town, for dinner with Angelina, Steve Jahng, Tao Sun and Mr Xiao. Mr Xiao told fascinating stories of Chongqing's history and his experiences as an artist and scholar over the past five decades.  We finally headed through the unlit streets of the old town to Tao Sun's studio and had tea with his business partner by candlelight.  Tao Sun showed me his portfolio and the work was remarkable. As well as a fist class commercial photographer he is an active photographic and photoshop artist. Once I receive the pics he took of the day I will post them up.
Many thanks to Angelina for a very enjoyable and inspirational day out.