So, I have been back in Birmingham since 18th June. My flight back from Chengdu was quite an emotional one, perhaps partly brought on by the free beer. Having set up a random listening list on the in flight entertainment I wondered what I would touch down to in London. As we glided over London it seemed it was going to be Curtis Mayfield's Superfly. That would have been cool but it finished just moments before landing to be followed by Vaughan William's Lark Ascending, very nice moment.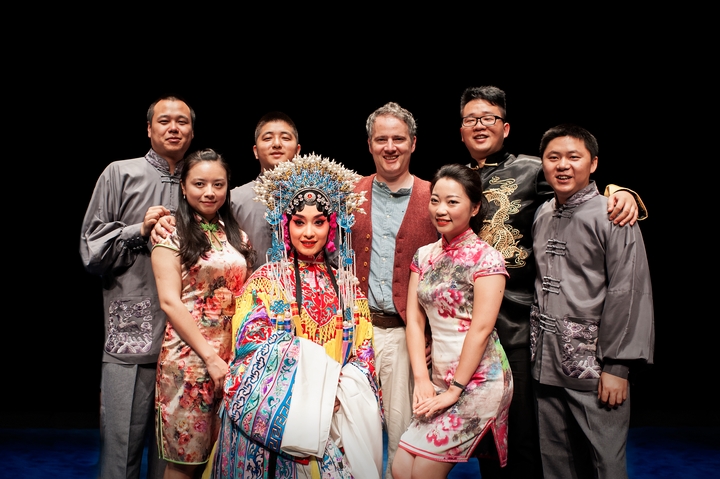 As mentioned in previous posts my main host in Chongqing was the Sichuan Opera Troupe. On the 11th June we put on a big performance to celebrate the residency and relations between the British Council and the Opera. It was some show and I think I had my picture taken more times in that day than I've had this entire year so far.
As you can see in the gallery below the entire troupe did an impressive show involving all their musicians, costumes, dancers and singers. I had to follow this and was a bit apprehensive to be fair but there was never a feeling of oneupmanship or competition. Everybody there was genuinely enthusiastic and the atmosphere was very encouraging.
I had worked with seven musicians from the Opera and a local bass player. I need to double check all their names and will post them up soon. We did quite an experimental version of Red is the Rose, a new piece I had composed for them simply titled Sichuan and then some arrangements of their tunes Chinese Flowers and Open a Little Door. The music had all come together very quickly and rehearsals initially proved a bit difficult with communication and so on. By the end however we were running the rehearsals without a translator, perfectly understanding each other without having to  do much talking.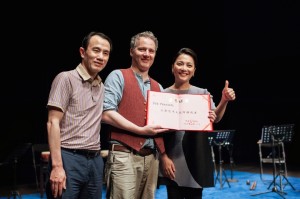 I was presented with an Honorary Certificate making me an Ambassador for Sichuan Opera.  I guess the extent as to how serious this is depends on me and  what I give to it.  There really is a lot for us to learn about Chinese music and how we can collaborate with it. There is a serious misconception  in some parts that Chinese music is simplistic and very easy listening.  Hopefully, in a small way.I can challenge that misconception and inspire more people to engage with music that can be as challenging as it is soothing.
It was a perfect day. Everybody had a great time except perhaps  for the translator who couldn't get my way of talking and had to be replaced by Joanne from the British Council. I plan to arrange  Chinese Flowers for the Surge Orchestra to be performed in Feb 2015 at the mac in Birmingham.  It would be a nice Chinese new years gift to be able to send to the Troupe.
Still a bit more to post on my trip to Chongqing to include thanks and future plans. Other projects are under way at the moment including an experimental exploration of Irish trad and the very creative mac youth group (who hopefully will soon be called the Rea Roots Orchestra.)
Thanks and check back soon.
Sid