As from this Sunday 11th May I will be off to Chongqing China as British Council/PRSF musician in residence. I'll be keeping you informed on what's going down here on my website so keep popping by. Questions welcome!

Bournville to Chongqing in 9 Steps
Arrived
G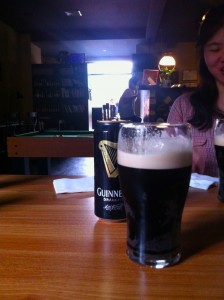 reetings from Chongqing. Apologies for the delay in this first posting but I've just been getting settled and locating essential local service providers (see pic).
Lots to report on Sichuan Opera Troupe and a visit today from a very cool Chongqing producer/impresario.
Stay tuned.
Opera Rehearsal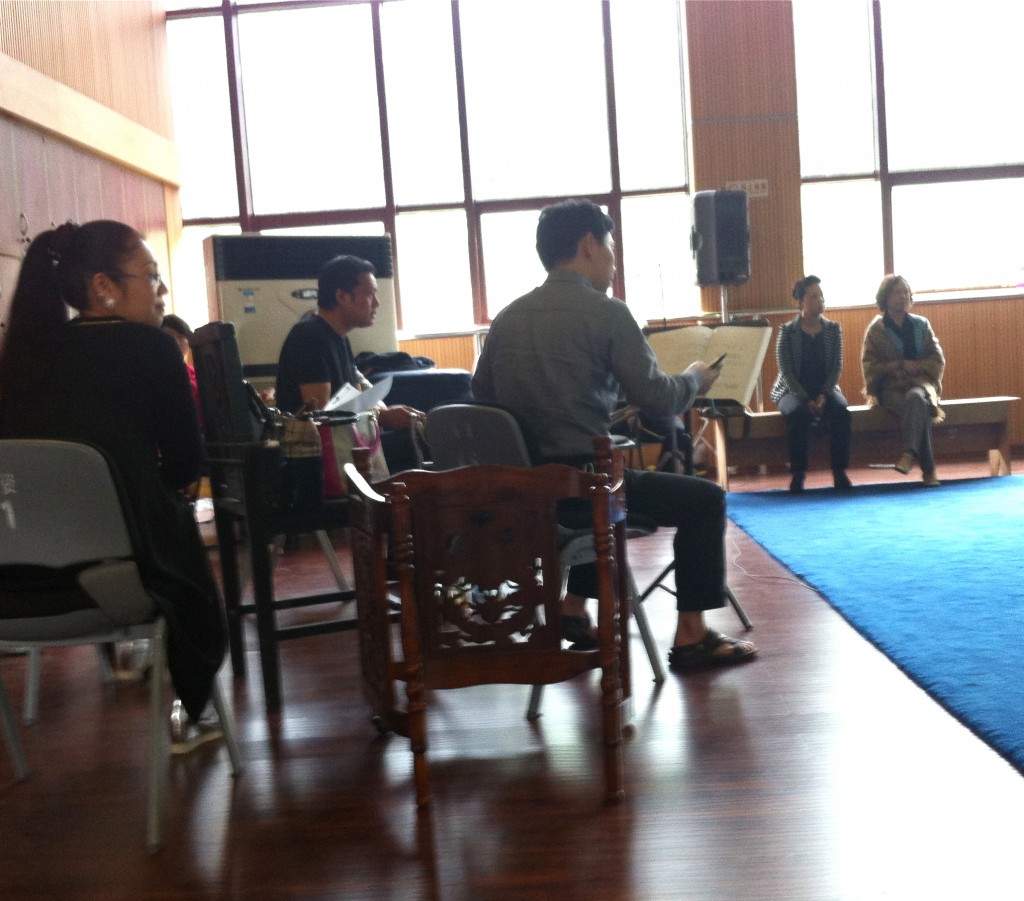 Opera Troupe – Afternoon Rehearsal
The Chongqing Sichuan Opera Museum is my base for these six weeks. My apartment is a short walk away. I am able to come and go at my leisure, sitting in on rehearsals, availing of a tasty and affordable lunch and working in my own allocated room. It is a tranquil place to be although the energy of performance is also in the air. The majority of the Opera Troupe return next week after having been performing elsewhere, I imagine it will be busier when they are back.
The gentleman in the centre of the main picture playing the erhu is Mr Liu. He is a composer and leader of this group. Although we can't communicate without an interpreter it is very evident that he is a passionate musician with a deep love for what he is doing.
Downtown Sichuan Opera
On Saturday I headed downtown with Jiali and Peter (more on them soon). We went to see a performance of the Chongqing Opera Troupe in their old theatre. The audience were mainly elderly people although there were some younger people there too. A lot of the old folks were surprised to see a laowai there and they were very keen to know if I could understand the stories being told. I explained that I enjoyed the music but was unable to follow the tale. One guy in particular was really friendly and gave a hug, I gave him a CD as a gift, the Peacock Angell CD not Surge. Could you imagine him and his wife sitting in their kitchen listening to Surge performing Pixel Carnage?
Hope you enjoy the audio snapshots, I think they, combined with a few pictures, do more for the imagination than a grainy video.
Excerpt from Saturday afternoon concert.
Jiali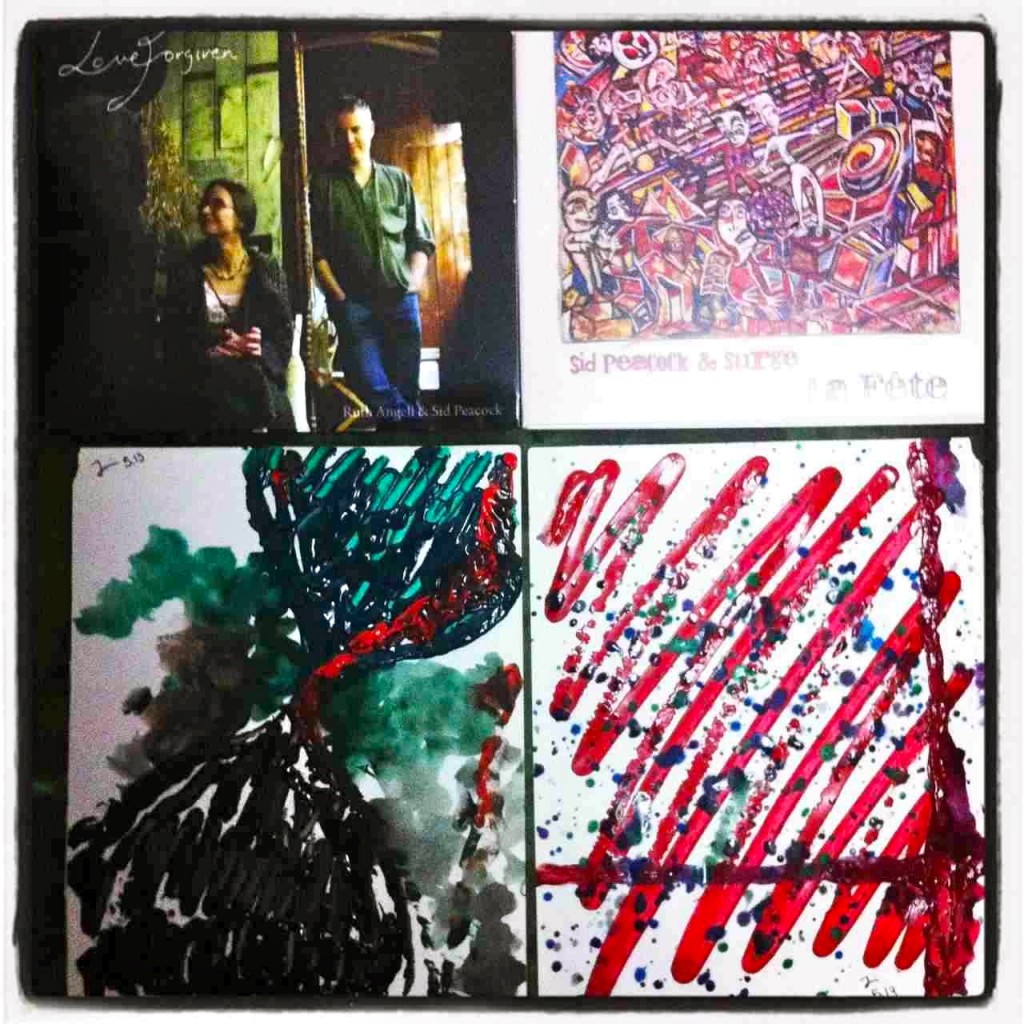 There's a lot of folks taking very good care of me here. The first on the scene was Jiali. Jiali met me off the airplane in Chengdu and escorted me all the way to my apartment in Chongqing.
She studied for three years in Sheffield and travelled all around the UK, but the place that inspired her most was Northern Ireland. Yes, hear that? Northern Ireland. So obviously Jiali is a discerning young lady and also very talented in art too. Having given her my Peacock Angell and Surge CDs she created the attached artwork inspired by the track The Birds and Bronze Bling.
Message From a Master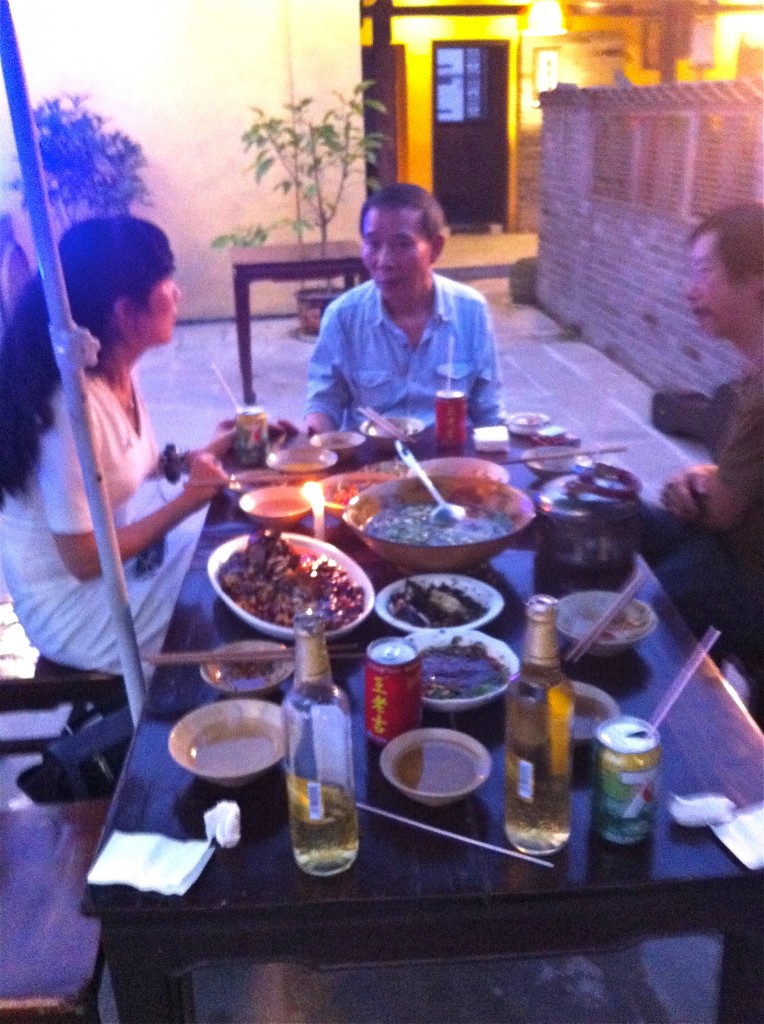 Today I had the most excellent time. Joanne from the British Council here in Chongqing had asked local residents to design a day out for me. The winner was Angelina who is sitting on the left in his picture. It was a packed day and we met with many interesting people from musicians and photographers to actors and the head of the University. I will make another post about this day later but for now I want to communicate a story I heard this evening that touched me deeply. Mr Xiao Nengzhu in the centre of this picture is a very wise and experienced scholar. He is a lover of music and traditional arts in particular. We experienced a qin (Chinese stringed instrument) performance today and I was shown scores for this ancient music. They consisted of stories that you were intended to relate to and then convey in the performance. Mr Xiao told me about a lesson he had had with a very old qin player, he died two years ago having lived to 93. The old masterr said to him "I don't teach technique, I teach the stories. Once the student understands the stories then they will be able to play." How far is that from our preoccupation with theory and technique? I feel incredibly blessed to have received that message via Mr Xiao. It's something you sort of already know but to have it communicated to you across ages in a distant culture helps to confirm your thinking. If Steve Tromans reads this I know he will dig it.
Day Out With Angelina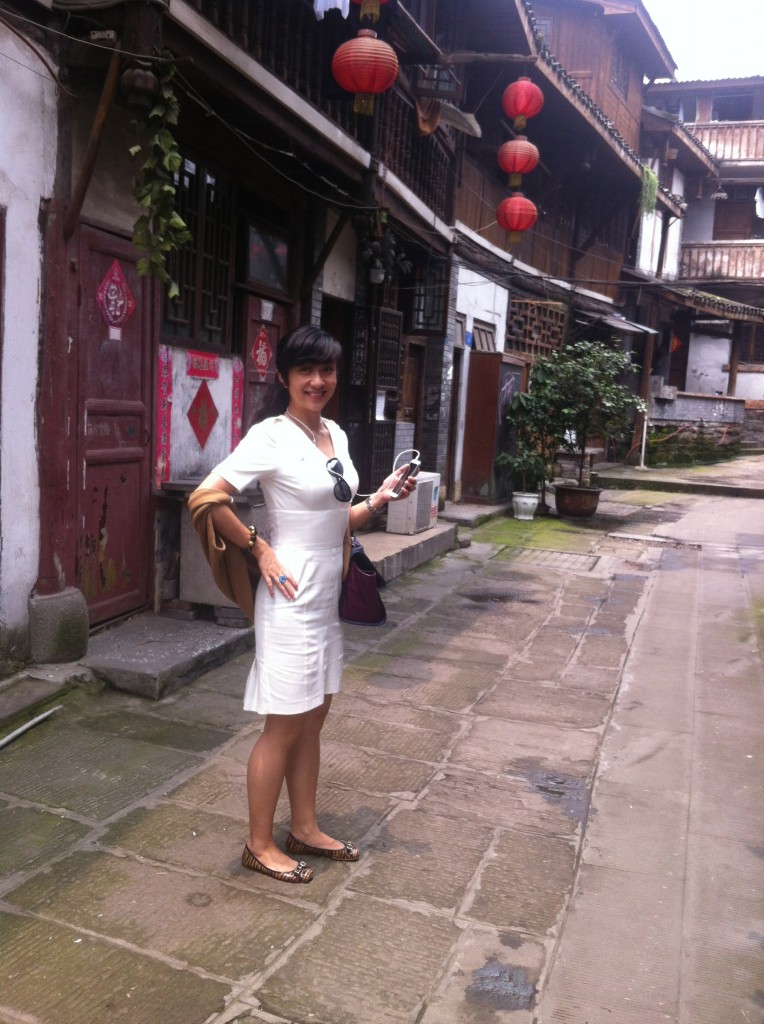 This is Angelina Gao, along with her friend Steve Jahng she leads the Summertime Theatre Group in Chongqing. Angelina's journey in theatre has not been easy what with societal pressure and family expectations but she has persevered and has become very successful. In 2010 Angelina was chosen to by Cosmopolitan to be one of their Woman of the Year. So I was very honoured to be given a tour about Chongqing by Angelina and her friends last week.
We began our tour in downtown Chongqing at the People's Liberation Monument in Jiefangbei Square. Once the tallest building in Chongqing the monument is now dwarfed by surrounding skyscrapers. Jiefangbei is uphill and we headed downhill past various new and old buildings with Angelina providing detailed commentary along the way. Being built on the mountains the locals describe Chongqing as a 3D city. You can take a lift to different areas and travel vertically to your destinations rather than horizontally as you do on road or rail. We opted to walk though and take in the sights of brand new buildings alongside older shop fronts where locals prepared chilli peppers or crafted beautiful and complicated cross stitching patterns. Often amongst the sea of luxury vehicles you would see a member of now in decline Bang Bang Army carrying seriously heavy loads but without the slightest show of exertion.
Lunch was at the bottom of the hill overlooking the Yangtze River. Alex, one of Angelina's students who had been carrying my guitar displaying many shows of exertion, began to ask about British food. Chinese food is consistently delicious and they take it very seriously. Alex asked if fish & chips was really our favourite food and for me to confirm these rumours he had heard of certain dishes such as dripping and battered mars bars. As I nodded my head in sad confirmation he explained that he and his friends call this food from the dark side.
After lunch we headed to Nanshan Shuyuan, the South Mountain Academy. On my arrival the bell was sounded to mark the welcome of an honoured guest. Angelina had arranged for many local musicians and artists to meet us there along with her mentor Mr Xiao and the Dean of the University Hongyi Liu. At the highest point of the academy on the mountain is a collection of beautiful traditional style buildings and pagodas. A small stream runs through it all and carefully maintained gardens. It was designed by the Dean Honyi Liu for the teaching and study of traditional arts, a very tranquil place. My pictures below only give a snapshot but I will post more soon as I get them from Tao Sun, the photographer who accompanied us all day.
Honoured Guest Bell –
Amongst the other guests was a local jazz guitarist Wei Zhao. He is one of the few jazz musicians here in Chongqing and he played really well. Its been a while since I've played traditional jazz standards but it was really nice to comp through tunes (thanks to iRealbook) and let Wei Zhao cook it up on solos. We're gonna get together again soon so I've been practising my chops. I have been extolling the virtues of young Birmingham jazz musicians and conversations have been started about how we can strengthen our links and possibly enable some jazzers to come work in Chongqing. Early stages but you never know……
In the pics below where I am jamming with Wei Zhao the guitar I am playing was made by Xiafei You. He was also present and had other guitars to show. They were lush, my God, the tone was like honey and the action, feel , wood, everything was perfect. I've been invited to his studio down by the docks and hope there is time for this to happen. If anybody reading this has a few thousand pounds spare and wants to make a kind gesture for international relations drop me a mail.
Jialin Yi is a maker and player of the chiba or shakuhachi as it is known in Japan. You can hear some of his playing on his website and the msytical setting of Nanshan Shuyuan was the perfect place to hear him play. As well as creating a deep breathy flute sound the chiba seemed able to generate overtones and a drone in much the way a didgeridoo does. We had a short play together and it felt great. Jialin Yi described it as walking through a foggy forest in the evening. The work I am doing presently with the Peacock Angell band really fits with the characteristics of the chiba and I have a hope that Jialin Yi can someday join the band on stage someday either in UK or China.
The final event of the soiree was a performance by qin player Tianjun Liu who is a teacher at the academy. It was there I learnt how the qin music is communicated down the ages by stories and was shown copies of ancient texts.
We headed to Ciqikou, the old town, for dinner with Angelina, Steve Jahng, Tao Sun and Mr Xiao. Mr Xiao told fascinating stories of Chongqing's history and his experiences as an artist and scholar over the past five decades. We finally headed through the unlit streets of the old town to Tao Sun's studio and had tea with his business partner by candlelight. Tao Sun showed me his portfolio and the work was remarkable. As well as a fist class commercial photographer he is an active photographic and photoshop artist. Once I receive the pics he took of the day I will post them up.
Many thanks to Angelina for a very enjoyable and inspirational day out.
Sisyphe Bookstore
Sisyphe bookstore is a cool vibrant bookstore in downtown Chongqing. There are lots of mostly young people hanging out there browsing for books and working at the many study areas available. Reminded me a bit of the ill fated Borders Bookshop.
Sisyphe describes itself as a humanities books holding "cultural spiritual ideals". The name comes from Sisyphus of Greek Mythology who was punished for his deceitfulness and had to push a boulder uphill forever. The bookstore took this pushing as freedom of choice and eternal meaning. I'm not so sure about that interpretation myself, that aside the bookstore was a very hip and happening place.
They held regular events that were mainly lectures. I attended one before doing my own and they were talking about Kew Gardens in London the audience listening attentively. When my time came I talked a little of my various ensembles then played excerpts from Peacock Angell, Surge Saxophones and Surge Big Band moving from the accessible to the pure noise. Then we had questions which were all very deep. I had sort of expected things like "What sort of music will you compose in Chongqing?" etc but instead I got "Does your music aim for the heavens?", "What instrument represents our city?" and "How do musicians of different styles bond together?". There was no shortage of questions either compared to those awkward lectures that when the talker is finished a room of bored faces have nothing to say. I did my best to answer intelligently.
In the second half I sang a few songs and got into more comfortable territory of creating a piece of music with everyone there despite having only four instruments amongst about 100 people. The musicians laid a groove whilst everyone else made vocal noises, shuffled feet, clapped hands and engaged their mobile phones on cue. A brave solo singer volunteered and within 15 minutes we had a piece. A bit of fun and short dissemination of the sort of creativity I believe Britain excels in.
Shen Tiemei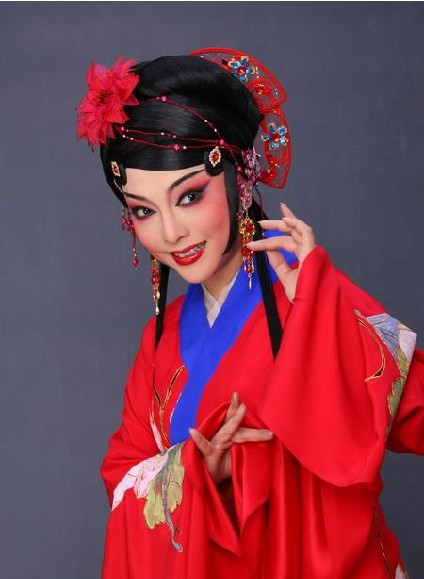 Before I came to Chongqing I searched the internet to find out what I could about the Sichuan Opera and the Chongqing Troupe. good quality video proved difficult to find on youtube and vimeo but there were many good images. These were mainly of masked performers and the wonderfully elaborate costumes. Due partly to the limited amount of images no individuals in particular stood out or were memorable with the exception of this lady on the left.
This is Shen Tiemei (pronounced Tia May), performer and director of the Chongqing Sichuan opera Troupe. When I arrived at the Opera House for the first time Tiemie and the troupe were away. As I was shown around the museum I soon noticed that her picture is everywhere and that she is a very important person. Eventually I learnt she was the director and I would be meeting her very soon. Somehow my pre-discovery of Tiemie on the internet, her high position and the further wait of another week to meet her started to make me very nervous. When I did meet her in her office, which is very plush, I felt like a school kid going to meet the principl for the first time. Tiemei doesn't speak english and our translator was Peter, an admin staff member from the troupe. Peter and I get on great but I'm pretty sure he doesn't understand me at the best of times so I'm not too sure what I communicated to Tiemie in that first meeting but it all seemed very positive.
Then Tiemei stood up and Peter said "You will go and see the theatre!" and off we set at a determined pace. Thinking I had seen the theatre already I figured I would nod and go "oh yes" politely. But Peter disappeared and Tiemei led me through doors and into an area that looked like the backstage of Birmingham's Symphony Hall. On we went through various doors passing large staging and double bass cases amongst others things until we arrived into a very large theatre. I had been in Opera House for a week and had no idea this existed. Rehearsals were under way and Mr Liu was leading the full band in the pit. It sounded more modern than the traditional opera I had heard downtown and there were some very western style orchestrations. The orchestra was augmented with cello and double bass. Tiemei gestured to me to sit down, smiled and then began rehearsing with the troupe. It was a very impressive move from the office to the theatre and rehearsal.
As with Mr Liu it is very evident that Tiemie is a talented and passionate performer. The opera is her life and I wondered if it her journey had not been without it's difficulties. The present setting of the Opera House and Tiemei's growing international reputation certainly seem very comfortable and rewarding. She has performed in The Lincoln Centre and conducted a 27 city tour of France. But I doubted it had always been easy in a modernising society. I found this article from 2007 on China.org.cn that shed a bit of further light and confirmed a bit of what I thought. It is also reminded me that, as with the theatre, there is only so much I can know whilst I am here and the bigger stories will likely elude me.
Howl at Yinzi Theatre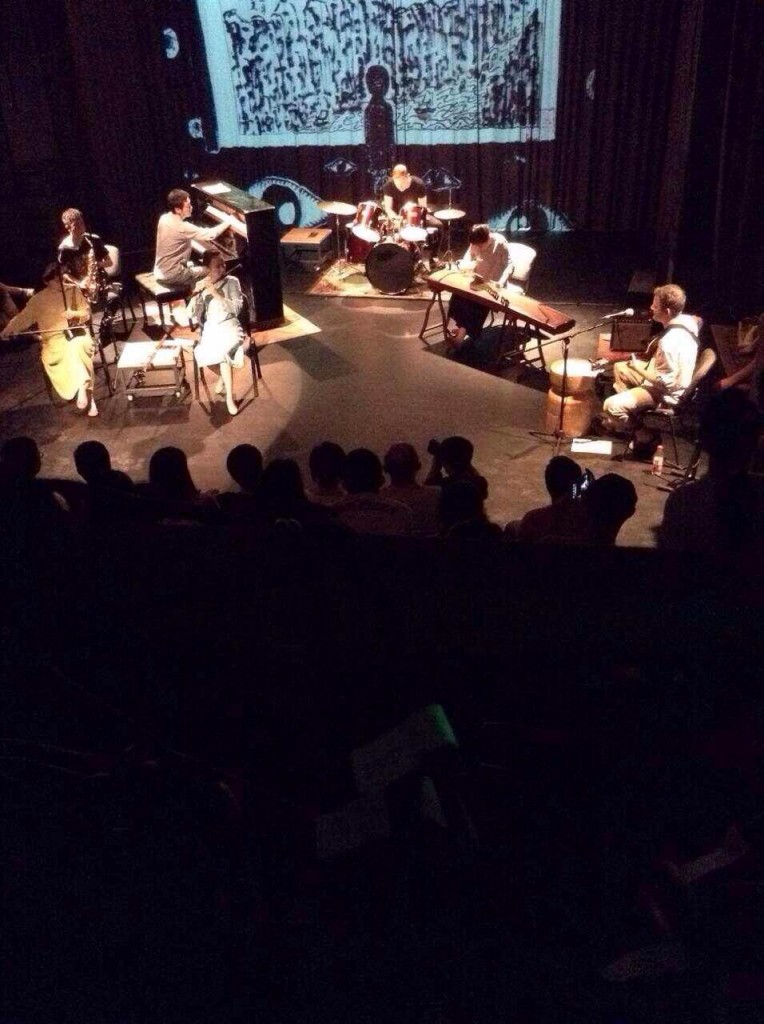 Many thanks for continuing to check out my blog and apologies for my delay in posting. The last two weeks got incredibly busy with rehearsals, meetings and gigs. Add to that an unsympathetic internet service and posting has proved near impossible.
There is much I want to update and add to, especially the Sisyphe post, and will do so at a later date but for now I will post the highlights of the past few days.
Yinzi Gallery is a black box theatre run by Huyin and her husband in the arts district of Chongqing. It is an excellent space and they have a commitment to experimental arts. They invited me to present a concert there with a young local pianist called Zhou Xiaoshan.
We had been incredibly busy with other things and I was a bit concerned about having the energy and time for what was an addition to our existing schedule. The results however were fantastic and it proved to be a significant highlight of my residency.
The ensemble included Zhou Xiaoshen – piano, Kong Wenjing – guzheng, Wu Yan – erhu, Zhao Lan – dizi, Li Yunliang – saxophone and Max on drums. Guess where Max is from? Birmingham! That really was a pleasant surprise. He is in Chongqing playing drums, teaching yoga and exemplifying all the warm and friendly qualities that make up the Brummy personality. A great ambassador for Birmingham.
In our rehearsal we put together a piece with riffs, solos, spoken word and group improvised textures. It lasted about 12 minutes and for the text I decided to use excerpts from Allen Ginsberg's "Howl". For not entirely artistic reasons I worried about this choice. (read between the lines here). I also don't want to increase the Sisyphean struggle of anybody else but ultimately I felt it was the right choice and continued.
And…. in a magical way and true to the spirit of Ginsberg the interconnectedness of all things carried us to the starry dynamo in the machinery of night. Huyin named the event "City Variations" which seemed particularly apt. The event itself was held on 8th June, the anniversary of the writing of "Dream Record" where Ginsberg experimented with a syntactic subversion of meaning called parataxis, a technique that would become central in "Howl".

The musicians opened up and embraced free improvisation..Kong Wenjing said after "I was faced with this challenge and had to decide if I could do it or not, I decided I could.". Zhou Xiashen sent me a message saying, "Thank you for helping us to play wildly". Whilst I perhaps enabled I have to say that the musicians played as if they had always played this way, they dazzled. Zhou Xiashen in particular went wild as I recited "Howl" thrashing out clusters and owning the keyboard. As we settled down I swear for a moment he played the Victor Jara tune that Steve Tromans plays at the end of his "Howl" project.
As well as "Howl" we performed an hours set of Irish songs, solo spots and were at the end joined by my very good friend and Chiba player Jialin. A perfect end to a perfect evening. I give my thanks to all Huyin and Yinzi theatre, all the great musicians and Allen Ginsberg.
Apologies if there are errors of any sort in this post. Time is running out and I want to communicate it whilst still here. Will sort out edits later.
Cheers,
Sid
Grand Finale
So, I have been back in Birmingham since 18th June. My flight back from Chengdu was quite an emotional one, perhaps partly brought on by the free beer. Having set up a random listening list on the in flight entertainment I wondered what I would touch down to in London. As we glided over London it seemed it was going to be Curtis Mayfield's Superfly. That would have been cool but it finished just moments before landing to be followed by Vaughan William's Lark Ascending, very nice moment.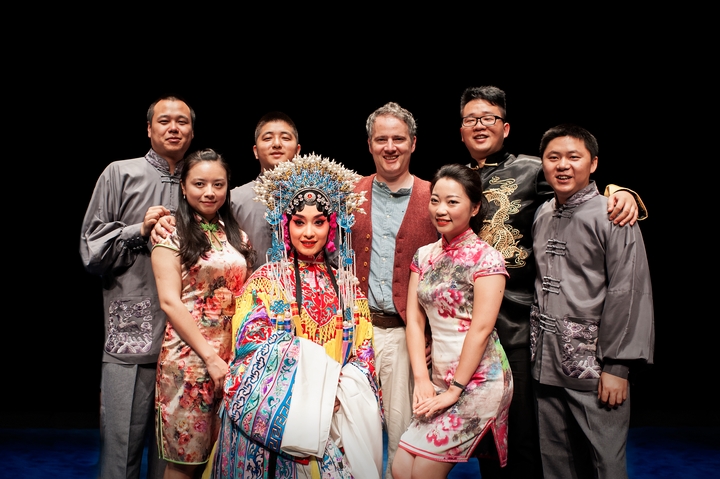 As mentioned in previous posts my main host in Chongqing was the Sichuan Opera Troupe. On the 11th June we put on a big performance to celebrate the residency and relations between the British Council and the Opera. It was some show and I think I had my picture taken more times in that day than I've had this entire year so far.
As you can see in the gallery below the entire troupe did an impressive show involving all their musicians, costumes, dancers and singers. I had to follow this and was a bit apprehensive to be fair but there was never a feeling of oneupmanship or competition. Everybody there was genuinely enthusiastic and the atmosphere was very encouraging.
I had worked with seven musicians from the Opera and a local bass player. I need to double check all their names and will post them up soon. We did quite an experimental version of Red is the Rose, a new piece I had composed for them simply titled Sichuan and then some arrangements of their tunes Chinese Flowers and Open a Little Door. The music had all come together very quickly and rehearsals initially proved a bit difficult with communication and so on. By the end however we were running the rehearsals without a translator, perfectly understanding each other without having to do much talking.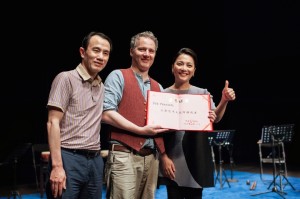 I was presented with an Honorary Certificate making me an Ambassador for Sichuan Opera. I guess the extent as to how serious this is depends on me and what I give to it. There really is a lot for us to learn about Chinese music and how we can collaborate with it. There is a serious misconception in some parts that Chinese music is simplistic and very easy listening. Hopefully, in a small way.I can challenge that misconception and inspire more people to engage with music that can be as challenging as it is soothing.
It was a perfect day. Everybody had a great time except perhaps for the translator who couldn't get my way of talking and had to be replaced by Joanne from the British Council. I plan to arrange Chinese Flowers for the Surge Orchestra to be performed in Feb 2015 at the mac in Birmingham. It would be a nice Chinese new years gift to be able to send to the Troupe.
Still a bit more to post on my trip to Chongqing to include thanks and future plans. Other projects are under way at the moment including an experimental exploration of Irish trad and the very creative mac youth group (who hopefully will soon be called the Rea Roots Orchestra.)
Thanks and check back soon.
Sid